14-Day Cape Horn & Strait of Magellan - February 19 - March 5, 2020
Santiago (San Antonio), Chile to Buenos Aires, Argentina
Join our hosted group and discover Cape Horn & Strait of Megellan.There will be opportunities to export ports in Chile, Argentina, Cape Horn, Falkland Islands & Uruguay.
14 Days / 9 Port of Calls
Day 1 Santiago (San Antonio), Chil Day
Day 2 At Sea
Day 3 Puerto Mont, Chile
Day 4 At Sea
Day 5 Amalia Glacier, Chile
Day 6 Punta Arenas, Chile
Day 7 Ushuaia (Tierra del Fuego), Argentina
8 Cape Horn (Scenic Cruising)

Day 9 Falkland Islands (Stanley)

Day 10 At Sea

Day 11 Puerto Madryn, Argentina

Day 12 At Sea

Day 13 Montevideo, Uruguay

Day 14 Buenos Aires, Argentina

Staterooms
The staterooms are the perfect place to recharge. Choose from Interior, Ocean view, Balcony or Mini-suite. All staterooms includes queen bed/or 2 twin beds, refrigerator, hair dryer, TV, closet and bathroom with shower. Balcony and mini-suites offers relaxing views of the inspiring scenery surrounding you whether its a beautiful sunset over the ocean or a new city waiting for you to explore. It's also prefect to enjoy cocktails before dinner or a leisure breakfast.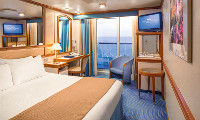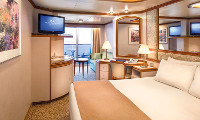 DINING
Dining on board a Princess cruise ship is a joyful celebration in the truest sense with every dish "designed for fresh" and crafted to please even the most discerning palates. From hand-tossed pizza to dazzling multi-course gourmet dinners, you'll find enticing food and dining options throughout the day, as lovingly prepared as a home cooked meal. From your first bite, you'll discover why we were awarded "Healthiest Cruise" by Shape Magazine

Entertainment
There's always something happening on board — from heading to the Princess Theater for a lavish original musical production to enjoying a blockbuster movie poolside under the stars or simply relaxing in a lounge sipping a cocktail where a live band is playing your song.
Movies Under the Stars®
Original Musical Productions
Music & Dancing
Vegas-style Casino
Featured Guest Entertainers
Princess Theater
Churchill's (cigar lounge)
Club Fusion (dance club)
Skywalkers Nightclub
Crooners Bar
Rates
Rates are per person and is based on double occupancy. All prices are in Canadian Dollars.
Interior $ 3,549.15
Ocean view $ 3,886.65
Balcony $ 4,737.15
Mini suite $ 4,966.65
Other Charges
Taxes, fees & Port Expense $ 526.50
Transfers $ 139.05
Deposit $ 540.00
Please note that air / medical / cancellation insurance is not included.
For more information, please email